First-Year Graduate Student Lori Wilkinson Accepted for Publication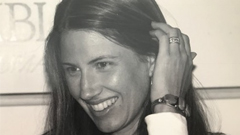 Lori Wilkinson, a first-year graduate student focusing on 19th and 20th century US History, will have a research paper featured in the January 2018 issue of the Journal of Mormon History titled "Scribbling Women in Zion: Mormon Women Emulate Fanny Fern". The paper focuses on the relationship between LDS women on the frontier of Utah and the writings of Fanny Fern, a satirical newspaper columnist with the New York Ledger known for her conversational writing style. While the LDS church was encouraging separation of its population from mainstream American culture, many of its female members nonetheless found connection to popular culture and inspiration for their own writing through Fern's weekly column.
Wilkinson credits the research seminar taught by Professor Colleen McDannell for helping prepare the paper for publication. Says Wilkinson, "Her class took students step by step through the writing and publishing process. She arranged for students to meet and/or FaceTime with authors and editors. In my first semester as a PhD student, this class was a wonderful experience that enabled me to write an article and submit it for publication within four months. I cannot thank Professor McDannell enough for her effort on my behalf. She drafted with me throughout the semester. By the time I finished the class, I knew exactly where I was sending my article, the requirements for that particular journal, and I was able to submit the article within in a week after the semester ended."
The paper's abstract follows:
"Upon arrival in Utah Territory, Brigham Young admonished the Saints to maintain separation from the "Gentile world" by "cutting every thread." Previous scholarship in Mormon history has stressed that that the Saints maintained an attitude of separation until the discontinuation of polygamy, when Latter-day Saints strove to become culturally "American." However, this assumption reveals a male historical bias. Latter-day Saint women on the Utah frontier were intimately connected with a developing national popular culture. To illustrate this point, one can observe how Latter-day Saint women on the frontier of Utah were voracious readers of Fanny Fern, the highest paid newspaper columnist of her time. Often considered isolated from their New England contemporaries, Mormon women were actually connected to American popular culture through women's writings. Mormon women were fascinated and intrigued with Fanny Fern's brusque satirical writings, as well as her sentimental pieces. She offered domestic advice that expressed both traditional and unconventional ideas. Seemingly outlandish statements by Fern were noteworthy in lives of these western women. Her articles were printed in the Deseret News as early as 1852, and in the Woman's Exponent long after her death in 1872. Numerous articles in the Woman's Exponent reference Fanny Fern, and women's entries borrowed from her writing techniques."
---
Most Recent Student News