Professor Paul Reeve Wins MHA Best Book Award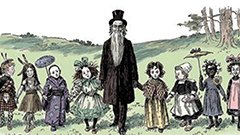 According to the BYU Studies Review, "Religion of a Different Color is a true historical tour de force. It instantly joins the elite ranks of the Mormon studies canon, becoming required reading for anyone interested in the Mormon past (or present). The book's utility goes far beyond Mormon studies, however, as it should also be consulted by scholars of whiteness and American race relations as an expert analysis of how religion impacted and was impacted by the national discourse about race."
Reeve was also recently invited to speak at BYU's Charles Redd Center for Western Studies. Drawing upon evidence from his new book, Religion of a Different Color: Race and the Mormon Struggle for Whiteness, Reeve suggests that Mormon whiteness in the nineteenth century was a contested variable, not an assumed fact. Situating the Mormon racial story within the broader context of a very fluid and illogical American racial history, Reeve will trace the evolution of Mormon whiteness over time and offer a new lens through which to view the evolving priesthood and temple bans within Mormonism. He argues that one way in which Mormons attempted to secure whiteness for themselves was in distance from their fellow black Mormons.
---
Most Recent Faculty News