Graduate Student Kate Mower Wins Fulbright for 2016-17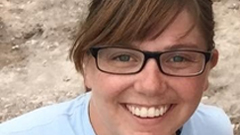 Three Humanities students, Jessica Chamorro, Sabrina Dawson, and Kate Mower have won the 2016-2017 Fulbright Awards. The US Fulbright program was established in 1946 to create mutual understanding and support friendly and peaceful relations between people in the U.S. and other countries. The program provides grants for international exchange for students and scholars to study, teach and conduct research. It is the largest U.S. international exchange program, offering opportunities for students, scholars, and professionals to undertake international graduate study, advanced research, university teaching, and teaching in elementary and secondary schools worldwide.
Kate Mower, an MA student in the Department of History won the award for research that "will take place in four ancient Thracian and Greek colonial cities: Philippopolis, Kablye, Callatis, and Histria. Modern archaeological museums at each city house the artifacts uncovered at the sites." She plans to "create video presentations based on the geographic information for artifacts uncovered concerning the god Apollo. This project," according to Mower, "will give a literal picture of the geographic information that would otherwise be hard to evaluate." The research will be the basis of dissertation on Thracian and Greek religious identity, and a career in academia.
---
Most Recent Student News