A Banner Year for Historian of Religion Colleen McDannell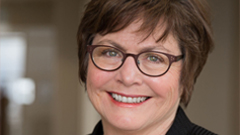 Along with a number of scientists and two poets, Colleen McDannell won the 2015 Distinguished Scholarly & Creative Research Award. She is among the first Humanities scholars to win the prestigious prize.
The Distinguished Scholarly and Creative Research Awards were established as a means of recognizing University of Utah tenure track faculty members in all disciplines who have made significant scholarly contributions to their fields. No more than three awards are made for the following academic year and consists of a grant of $10,000 to pursue research or creative pursuits. List of previous winners
In May, McDannell was invited to the University of Cambridge to give a keynote—titled Heritage Religion and the Mormons"—for a conference that focused on material culture.
McDannell also delivered a keynote at the 2015 Mormon History Association meeting. The lecture was called: "What Happened? Women, Medicine, and Religion Moving Towards the Twentieth Century."
---
Most Recent Faculty News